Top 10 Enterprise Trends You Can't Afford to Ignore
As we look forward to 2013, Pegasystems' Setrag Khoshafian sits down to analyze the industry trends that will become increasingly prevalent over the course of the next 12 m
onths. He tells of 10 business trends that you should be paying special attention to as your orga
nization looks to Build for Change® by increasing operational efficiencies and improving customer service
, among other
initiative
s. By focusing on these trends and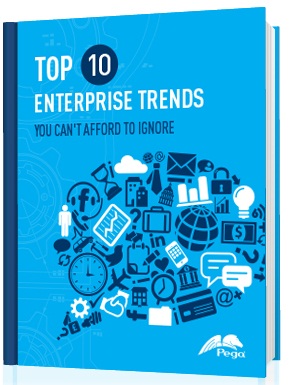 undertaking transformation projects, organizations stand to gain rapid returns on investment and achieve ongoing operational excellence.
This eBook highlights:

What role will the Chief Digital Officer play in your organization

How social collaboration can be synchronous (same time) or asynchronous (different times)

What a mobile workforce will mean to your organization

How data engineering will help with big data

Why the Internet of Everything will involve processes with people and "things"
Privacy & Security | Trademarks
© 2013 Pegasystems® Inc. US +1 (617) 374 9600 UK +44 (0) 118 9591150 Australia +61 (2) 9251 0566
Pegasystems revolutionizes how leading organizations optimize customer experience and automate operations. Our patented Build for Change® technology empowers business people to create and evolve their critical business systems. Pegasystems is the recognized leader in business process management (BPM) and is also ranked as a leader in customer relationship management (CRM) software by leading industry analysts.
or please complete the form below: