There's got to be a better way!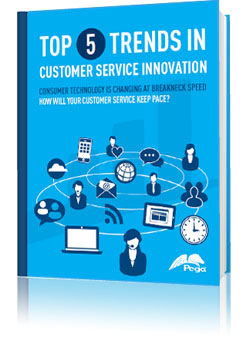 Today's CRM technologies are an epic fail when it comes to consistent customer service. Discover a better way.
Find out how to make endless transfers a thing of the past for your organization.
Download this eBook and infographic by Steve Kraus of Pegasystems to learn the 5 key trends in customer service innovation.
Are your customers tired of being lost in the Bermuda Triangle of interrupted customer service? Download this eBook and infographic to learn:
How social and mobile are changing customer service for the better




Why tracking long-term customer loyalty gives you the best insight




Why the CRM of the future will throw off the shackles of data




How holistic case management can become the secret weapon for the best customer service



Become a customer service leader
or please complete the form below:
Privacy & Security | Trademarks
© 2013 Pegasystems® Inc. US +1 (617) 374 9600 UK +44 (0) 118 9591150 Australia +61 (2) 9251 0566
Pegasystems revolutionizes how leading organizations optimize customer experience and automate operations. Our patented Build for Change® technology empowers business people to create and evolve their critical business systems. Pegasystems is the recognized leader in business process management (BPM) and is also ranked as a leader in customer relationship management (CRM) software by leading industry analysts.